CHAPTER 06.
Epi & Upper Canthoplasty
Surgery to adjust the angle of the eye's tail by increasing the length of the eye and improving the stuffy looking eye with a clear eye.
Together with epi-canthoplasty, Upper Canthoplasty will reveal the pupil covered by the skin at 45 angles to create a larger eye.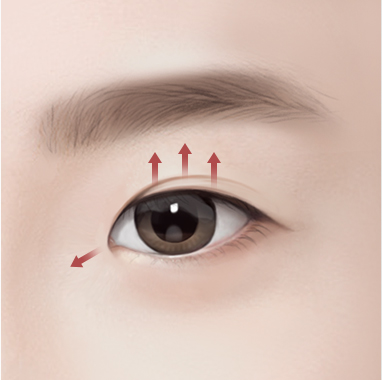 Canthoplasty results in wider eyes
Remove Mongolian folds and create large and bright looking eyes
Eye angles are adjusted to create an optimal eye look and improve the overall appearance
Minimized scarring that eventually disappears completely
HOW?
Epi Canthoplasty Surgery Method
01

Design made after checking eye structure and muscle.

02

Incision method to sperate Mongolian fold and band.

03

Mongolian fold is spread out, muscle and ligament is readjusted.

04

Suture made within the eyes for invisible scar.